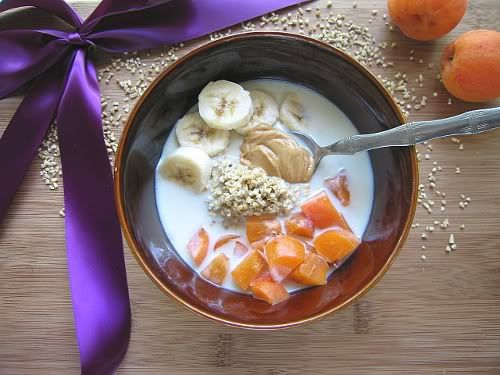 Oh Dearies, how I do love thee! Let me count the ways...
It has been a busy week here in the hollow, as I'm sure it has been for all of my Dearies that I do so miss during the hectic week. In the midst of all the madness though, our enchanted kitchen always seems to find a way to summon me into its quarters. It is here that I often find the time to knead, stew, and even contemplate some simple, relaxing niceties and topics that might otherwise slip my mind only to be lost in the crevices of this mystical life.
One of these simple topics was Cauldron Boy's very good habit of eating organic hot oatmeal every morning during the fall and winter months. This came to mind as I noticed the sun shine over my herb and vegetable garden while feeling a bit of its above 80's temperatures against the side of body facing the window. It was in this warm moment that I realized C.B. would soon stop eating his hot oatmeal as the truly warm weather sets in this Spring. In fact, he is already eating less healthful things, as February 1st marks the first day of Spring in this hollow, Dearies.
So, being that my Cauldron Boy has a natural tendency towards high blood pressure and cholesterol, I felt I needed to look into my bag of vegan tricks and treats;-) In it, I found this old trick of soaking organic, steel cut oats in soy or almond milk over night. The result is a quick, no cook breakfast of chewy whole grain oats that is as delicious as it is full of fiber. I hope you will give it a try when your hollow inevitably heats up a bit this spring or summer!
Here is how it's done:
Soaked Steel Cut Oats for 2-3
1 Cup Organic, Steel Cut Oats
2 Cups Organic Soy or Almond Milk*
Extras: Fruits, nuts, nut butters, honey, maple, etc...
*Organic dairy milk is great too!
Place your steel cut oats and milk in a container or glass. Cover and allow to sit over night in the fridge (I often do a double batch and eat mine over the next 2-3 days-it keeps well in the fridge at least this long). In the morning, scoop some of the soaked oats into a bowl with as much of the milk as you like and top with your favorite fruits and such.
Enjoy your cold, refreshing morning oats!